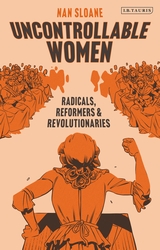 Uncontrollable Women: Radicals, Reformers and Revolutionaries (published by IB Tauris) tells the stories of radical women between the outbreak of the French Revolution in 1789 and the passing of what is known as the Great Reform Act in 1832.
Very few of them are well-known today; some were unknown even in their own day. All of them contributed something to the world we now inhabit.
At a time when women were supposed to leave politics to men they spoke, wrote, marched, organised, asked questions, challenged power structures, sometimes went to prison and even died. History has not usually been kind to them, and they have frequently been pushed into asides or footnotes, dismissed as secondary, or spoken over, for, or through by men and sometimes other women.
In my new book, they take centre stage in both their own stories and those of others, and in doing so bring different voices to the more familiar accounts of the period. These women and many others played a part in developing political ideas and freedoms as we know them today, and some fought battles which still remain to be won or raised questions that are still unresolved.
Some – like Mary Wollstonecraft – are familiar, at least by name, but others, like Mary Wollstonecraft's contemporary and 'friend of liberty' Helen Maria Williams, or the magnificent Susannah Wright, a working-class woman who fought the British state through the courts, are not. But all of them, from the early feminist theorist Anna Doyle Wheeler to the brave women of Peterloo have interesting and relevant stories to tell, stories which should be much better known, and which are a rich and forgotten part of our political history.
You can order Uncontrollable Women here and read the Guardian's review of it here.