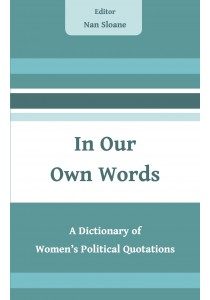 In Our Own Words is a compilation of quotations which gathers together over 1,400 wise, witty and thought-provoking political observations from hundreds of women throughout history and around the world.
Many of the quotes included have never appeared in any published collection before, and the book provides an indispensable resource for writers, speakers, and political anoraks, as well as a fascinating insight for general browsers. Some of the women quoted will be familiar and others less so, but all are significant individuals whose ideals, struggles, successes and failures have helped shape the world we live in.
In Our Own Words was edited by Nan Sloane and published by the Centre for Women & Democracy. It can be ordered from YPD Books.
'In politics, the people I most despise are those who have no values.' Diane Abbott, Labour politician.
'If you are never to speak because you are afraid to cause offence, you will never say anything. I am not in the least afraid of causing offence.' Nancy Astor, Conservative politician.
'I would get up in the morning and I would say, "How am I going to bother them today?"'  Rigoberta Menchú Tum, Guatemalan indigenous rights activist.
'Democracy is the best revenge.' Benazir Bhutto, Prime Minister of Pakistan.